Mobile apps exist for two basic reasons, namely, to help us make the most of our smart devices, and to make modern living easier. This includes celebrating Christmas, an experience that should be joyful, but instead becomes a source of stress that may or may not include murderous thoughts.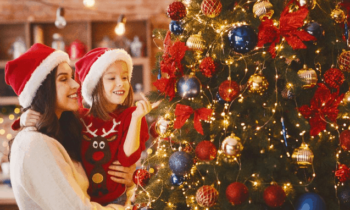 Thankfully, tech can change that. It cannot do anything about the sulky in-laws, but it can help manage gift lists, keep track of deliveries, find recipes, and supply a swinging seasonal soundtrack. The following apps have either been designed with the intention of, or can be used for, helping you to have as stress-free a festive season as possible.
Santa's Bag
Between family, friends, colleagues, and other associates, there are usually all sorts of gifts to buy at Christmas time; so many, that it can be difficult to keep track of it all and to budget accordingly. Santa's Bag and similar apps are excellent tools for managing your seasonal shopping. You can create an entry for each person, in which you can add a shopping list or gift ideas and set a budget. You also can create shareable lists.
Deliveries
Ordering gifts online is a popular way of avoiding the festive season rush at the shops. The downside, and it is a universal problem, is that keeping track of deliveries has been just about impossible. That was until apps such as Deliveries made it possible to see all your expected parcels in one place. The app provides a countdown to each package's delivery date, and it lets track the progress on a map. The best Christmas apps offer as much convenience as top-quality online betting on mobile devices does.
Christmas Food
Simply titled Christmas Food, the app is a treasure trove of Yuletide food, including options that cater to special diets. You can find recipes for everything from starters through mains, and on to desserts, drinks, and even party snacks and cater for large crowds. Many celebrity chefs and top food channels and publications have apps that include seasonal sections. They also are reliable sources of a wide range of recipe ideas. You also can use many of them to organize shopping lists.
Elf Yourself
Elf Yourself is one of the best apps you can find for spreading Christmas cheer. With the e-card creating an app, you can upload a photo of yourself and as many as four other people, if you choose, and turn yourself into an elf. You can take it a step further by making the creature do a happy dance for the recipients of your e-card.
Christmas Radio
The aptly-named Christmas Radio app brings together more than 150 different stations dedicated to carols and other seasonal music. You can use the app to choose from stations such as My North Pole Radio, which broadcasts from the North Pole, as well as New Orleans Christmas, Xmas in Frisko, and Christmas Country. You can use it on Wi-Fi and on cellular networks, although the former usually is the more cost-effective option.