Carefully considering your store layout can increase revenue by boosting efficiency, organization and strategically directing your customers towards higher-priority products.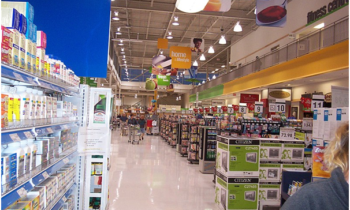 These seven tips will help you to create a shop floor to increase sales and enhance customers' experience.
1. Choose a Floor Plan
Most retail stores use one of three store layouts: a grid layout (commonly used by grocery stores); a loop layout, which maximizes wall space and leads customers along a path; and free-flow plans, which are often seen in upscale stores. Choice of layout can depend on the shape and size of your store, the products you sell and your target customers.
2. Create a Blueprint
Before implementing your store layout, creating a blueprint allows you to get a clearer picture and identify potential problems. You may be able to work from an existing blueprint or draw your own schematic using grid paper or online tool. Sketching out different floor plans will help you establish what works best for your space.
3. Consider Traffic Flow
It is important to keep traffic flow in mind when arranging your store's aisles, paths, and displays. Having a 'decompression zone' is important in creating a transition space for customers entering the store, whilst personal space is also essential to avoid crowding.
4. Choosing a Checkout Area
According to DeAnna Radaj, an expert in retail feng shui, the front left is a good position for the checkout, due to customers usually turning right when entering stores before completing a loop. Therefore, the front left is on customers' natural exit path.
5. Product Mapping
Product mapping refers to the process of deciding where to feature all of your products. It is important to ensure the most suitable fixtures are chosen, whilst flexibility in display areas is crucial for accommodating seasonal products.

6. Accessories and Amenities
Adding the finishing touches to your store is essential for creating an enjoyable customer experience, such as seating areas and dressing rooms. Retail signage is also a decorative and practical addition, such as retail signage from Mood Media, which includes digital retail signage and promotion boards.
7. Fixtures and Displays
After choosing your store layout and product mapping, it is important to consider your permanent fixtures, such as lighting, shelving, and counters, as well as movable displays, including gondolas, modular units and clothing racks.