With a diverse and huge number of cafes and coffee shops around the world, some stand out more than others for architectural uniqueness and distinctive interiors. As one of the most popular hot drinks in the world, drinking a satisfying cup of coffee can rely as much on your surroundings as the quality of the drink itself.
Here are just a few of the most interestingly designed coffee shops and cafes from across the globe:
Dreamy Camera Cafe
Yangpyeong, South Korea
Inspired by a love of vintage cameras, this family from South Korea have designed and constructed an outstanding cafe to emulate a classic twin-lens vintage camera, right next to their home. Army pilot Park Sung-Hwan and his wife, a former pilot herself, made the decision to build a cafe for the family to enjoy, including their daughter, as well as local customers. Dreamy Camera is all about capturing special moments of life, living at one with nature and enjoying family life with their dog whilst welcoming customers.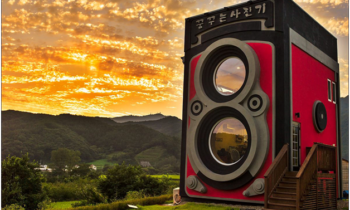 Mirrors
Gifu, Japan
As you would expect, with a name like Mirrors, this otherwise nondescript cafe is covered in wall-length mirrors on the exterior, reflecting the areas iconic Cherry Blossom trees opposite. Created by Bandesign, the coffee house is located along one of the busiest tourist routes of Japan in Gifu – a certain way of welcoming tourists inside.
Camellia tree is surrounded by cream-colored gravel, while the remainder of the building is painted white to give the effect of a traditional clapboard image. It's a perfectly balanced aesthetic with this coffee house, allowing the main focus to speak for itself. It doesn't matter if your cafe isn't quite as grand. Make up for it interestingly designed furniture, like the Eames Eiffel Chair from https://www.pash-classics.com/eames-eiffel-chair/
Knoll Ridge Cafe
New Zealand
This stunning café is dramatically set on the North Island Tongariro National Park, Mount Ruapehu.
What do people like about it? As well as it being on the Whakapapa mountain, part of the biggest commercial skiing area in New Zealand, but also the biggest active volcano in New Zealand. Imagine that for a drink with a breathtaking view. This design was planned after the original chalet was ruined by fire in 2009 and it didn't take long for an architecture firm to take on the challenge to redesign.
Not only the architect must take into account the adverse weather conditions of the mountain, including winds up to 200 km/ph and temperatures below freezing, but due to the remote location, the delivery of materials and installation had to take place using helicopters.
BarTopolski
London, UK
This café-bar-gallery pays homage to its former inhabitant; Polish-born artist and illustrator Feliks Topolski. It features original artwork by Topolski, meaning customers can pursue their love of art history while sipping a special house-infused spirits.
Situated near London Waterloo railway station, these are the same railway arches Topolski painted and where he exhibited many of his works, such as sketches and paintings of a wide variety of people, from Kings to Kings of Rock and Roll.
The Salvaged Ring Cafe
Vietnam
Located next to a highway, the cafe is found in the rural area of Nha Trang, Vietnam. What makes it special is that it belongs to a joiner who rescues pieces of wood from previous projects to build this impressive structure. The first view most people get of the unusual cafe is the curved thatched roof that extends from the highway to the river bank. A single roof connects two different levels together with a softening of the rigid support structure below.