Food manufacturers are faced with daily challenges, and how to optimize efficiency and reduce waste are two of the biggest concerns that companies of every size need to juggle. Experts believe that there are a number of ways that food and beverage firms can rise to these challenges with satisfactory results.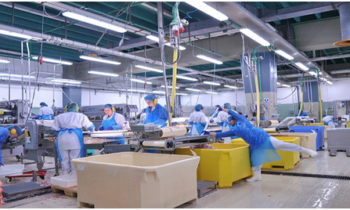 The Rise of Automation Technologies
When deciding which factors are key for purchasing new equipment in the food and drinks industry, trends have changed over time, from being driven by applications to focusing on financial gain. According to Process Expo companies want to make sure that when they invest in new equipment, their investment will have a strong payback in the marketplace.
For businesses seeking financial investment, equipment based on automation technologies is proving incredibly attractive. With improved efficiency, automation reduces maintenance time and employee downtime, boosting financial savings.
Tighter Budgets
With smaller budgets and every penny needing to be accounted for, food manufacturers are also under increasing pressure to spend money wisely when buying new equipment. In some cases, firms are forced to run equipment until it dies a death, but for improving efficiency, many forward-thinking companies are investing in used food processing machines.
Cleaner Systems
Experts also believe that efficiency can be achieved for food firms by using clean-in-place, or CIP, technology. Such systems enable businesses to clean equipment whilst minimising downtime and enabling production to continue during this process. Mixproof technology, for instance, has been shown to increase productivity by up to 40 percent. Even small changes to a company's CIP systems can make a big difference to efficiency.
Clever storage
Companies are being clever about storage and there investing in Steel Shelving from companies like Rackzone and putting them all along disused walls and putting extra resources and accessories on them for speed and efficiency.
 Efficient Use of Water
Water is an integral ingredient for food manufacturers and is also essential in the cleaning process. For businesses in this sector, there's mounting pressure to use this scarce commodity wisely. There are several strategies businesses can take to conserve water use, including the use of special pumps that optimize usage and slash maintenance, which can result in lower costs and improved efficiencies. Firms not only have a responsibility to better manage water for the sake of their business but on a global level – it's an aspect that everyone must rally around to safeguard. According to experts, if the water is not better managed, we could face a global shortage by 2030.