The Apple iPhone is charting new territory as it enters the world of medical research thanks to its medical platform called ResearchKit, which was launched back in March 2015.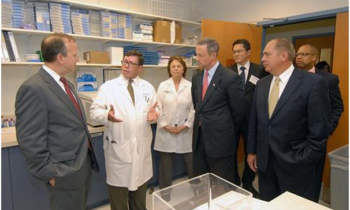 GlaxoSmithKline will be Apple's first partner in medical research, using the iPhone to track data on rheumatoid arthritis. Participants in the study will use an app created by GSK and based on ResearchKit to track how the symptoms of rheumatoid arthritis affect people on a day-to-day basis.
How it works
Patients will use the app, which is called Patient Rheumatoid Arthritis Data from the Real World, or PARADE for short, to track data on their daily symptoms. When participants perform a specific wrist exercise, the iPhone's sensors will collect data on joint pain, mood, and fatigue, which are common to rheumatoid arthritis.
In addition, participants will be asked a series of questions about their symptoms in order to track how they feel from day to day. The study will follow 300 patients, who will participate in the study for three months.
Study benefits
One of the aspects of the iPhone medical research platform that attracted GSK is that it makes it easier for people to participate in a medical study. According to the Clinical Leader, in a typical study, patients would be required to visit a hospital or research facility, where doctors, nurses or other staff would have to question patients and record data. The iPhone eliminates staff, paperwork, and travel from the equation, making it more cost-effective and less intrusive for study participants.
The iPhone can open new doors to research for a contract research organization or those in Patient Recruitment Services such as https://www.richmondpharmacology.com/specialist-services/patient-recruitment as it may become easier for people to participate in these kinds of trials in the future.

Benefits for Apple
The study with GSK will be an important step for Apple in its attempt to increase its presence in the healthcare technology field. In addition to the ResearchKit app, Apple has tried to bring health tracking to the public through its Apple Watch, which allows users to monitor their physical exertion and heart activity.
The use of ResearchKit, however, offers an attractive, cost-effective option for medical companies and research facilities, which could significantly increase profits if it is adopted on a large scale and becomes widely accepted in the industry.