If you were ever inclined to make an award for the best position of where a bronze bust was placed then surely the one of Sir Henry Wood would be a front runner. Wood, along with the concert impresario Robert Newman, made the "The Proms" what they are today and brought classical music and it's appreciation into the twentieth century and beyond. It is perfectly fitting then that his Bronze bust sits in front of the organ of the Royal Albert Hall so that he can "hear" the glory of the Proms and the other concerts that occur there. A Bronze piece of art is a great investment to have and there are many great examples of the work such as a Horse Sculpture. A visit to www.gillparker.com/will gives you plenty of ideas and inspiration.
Sir Henry was not born into a rich family, in fact, they were of quite modest means his Father being a small jeweler and optician and prior to that a pawnbroker. However, the senior Woods were keen musicians, his Father could play the cello and sang tenor for the local operatic society and his mother was a pianist and singer too. The young Wood was regaled with Welsh native songs by her and when they saw that there Son was gifted musically they actively encouraged him to pursue it. With the considerable purchase of a piano that he was taught to play by his, Mother Wood was also given lessons in the playing of both the Violin and the Viola.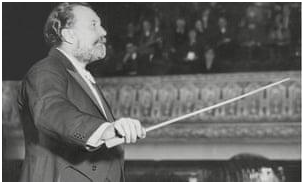 His first gig was playing the organ at St Mary Aldermanbury where he was paid half a crown (about 75p) to entertain the congregation. Ironically it was not the only place he played in that was subsequently destroyed by the Blitz of the Second World War. He was also asked to play in an exhibition in Kensington and after school, he attended the Royal Academy of Music studying the art of singing. He was not a success and was told he had a "conductor's voice" so decide to teach it instead on his departure.
He found a love of opera and was a huge fan of Gilbert and Sullivan who were combining the art of the operatic style with the drama and comedy of the stage to reinvent it. He started to conduct for companies and got his first big break conducting Tchaikovsky's work but the run fell through and it seemed that singing lessons would be his lot.
However, Robert Newman asked him to front a season of Promenade music he was planning over the summer months with a view to making it an annual fixture. The easy-going nature of the Proms appealed to Wood and he accepted.  Together they built the Proms up to the level it is today albeit weathering two world wars, the bombing of the Proms "home" the Queens Hall and a move to the Royal Albert Hall and Newman's bankruptcy.