You no longer have to be a professional international player to take part in an FA tournament. The FA People's Cup is a five-a-side competition that gives everyone a chance to get in on the action, regardless of age or ability. Organized by the FA, BBC's "Get Inspired" campaign and small-pitch football clubs, any non-professional player can join in, whether they're part of a regular five-a-side team or just individuals who enjoy playing occasionally. This has helped to inspire many people to take up the sport as well as encourage people to take the sport further.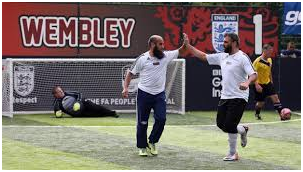 Record numbers

With 16 categories for male and female players ranging from under-14 to veterans, including disability and walking categories, the tournament, which only just completed its third edition in 2017, saw a record number of 45,000 players from 6,000 teams entering. The competition usually kicks off in February, with the semifinals in March and the finals in Birmingham over the May bank holiday weekend.
How to get involved

The competition is free to enter. Go to http://www.thefa.com/competitions/the-fa-peoples-cup and register your interest for the next tournament. Each year more and more people enter their teams. You can either enter as a team captain if you already have a team together, or you can enter as an individual and be placed in a team by your local center. You'll be asked for a team name, so have one ready that suits your team's identity.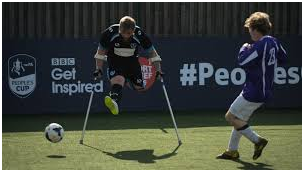 Teams are also expected to provide their own football kits, which include shirts, shorts, socks, shin pads and football boots suitable for astroturf. If you're an individual player who is joining a wild card team, the organizers will provide a bib for you to wear over your own kit. It's worth looking at Football Training Kits like www.kitking.co.uk/ to get all the kit and equipment you need.
Teams begin the competition in local heats, which include a group stage and a knockout stage. After that, they move on to the semifinals, which also take on a group stage and knockout stage format. The winners from the semi-final in each category then progress to the national final.
Do you have what it takes to go all the way in the FA People's Cup? Whether you're part of a Sunday League five-a-side team or just fancy teaming up with a few like-minded individuals to see how far you can progress, you too could be following the footballing legends as you begin your journey to victory.