Garages are a great place for storing things that you want to keep but don't need immediate access to. When it comes to shelving, you generally have three main options: free-standing units, units that you can attach to the wall, and units that hang from the ceiling.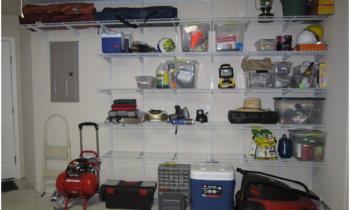 The amount of weight that shelves can hold depends on what sort they are. They can hold anything between 45 kg (wall-mounted) and 450 kg (free-standing) per shelf.
Free-Standing Shelving Units
Although these are very basic and require little to no assembly, they can hold the most weight. They are also inexpensive, and you can get units with wheels (to make them easy to transport).
There are, however, a few downsides to these. They can get in the way, they use up valuable floor space, the area underneath can be hard to clean, and if the legs are uneven/the floor is not level then they have a tendency to wobble.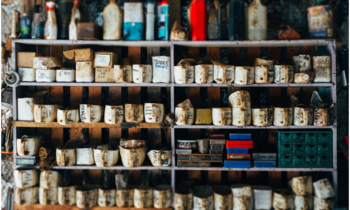 Image Credit

Wall-Mounted Shelves
There are plenty of good-quality wall shelf systems available that are capable of holding reasonable amounts of stuff. These include heavy-duty garage shelving such as the Rhino Shelf system.
There are a few basic drawbacks: wire shelves allow things to fall through the gaps, and they don't tend to be very deep (usually a maximum of 18 inches).
The main advantage is that they do not take up floor-space, meaning you can in theory put them on the walls all around the garage and still have your car/bikes/boats in there too.
If you would like to know more about the various shelving solutions for your garage, why not take a look at the website of an expert in heavy duty garage shelving such as https://www.garage-shelving.co.uk/shelving/heavy-duty-shelving/ today?
If yours is a commercial garage environment, it is worth checking the HSE guidelines on storage.
Ceiling Storage
This is a great way to reclaim your garage space and utilise the ceiling in a unique way.
The downsides are that they can be tricky to assemble (often needing two people), require advance planning, and they hold less weight (under 70 kg per joist).
What to Consider When Deciding on Garage Shelves
– What items do you want to store?
– How easily do you need to be able to access them?
– Can you utilise wall/ceiling space and keep floors free?